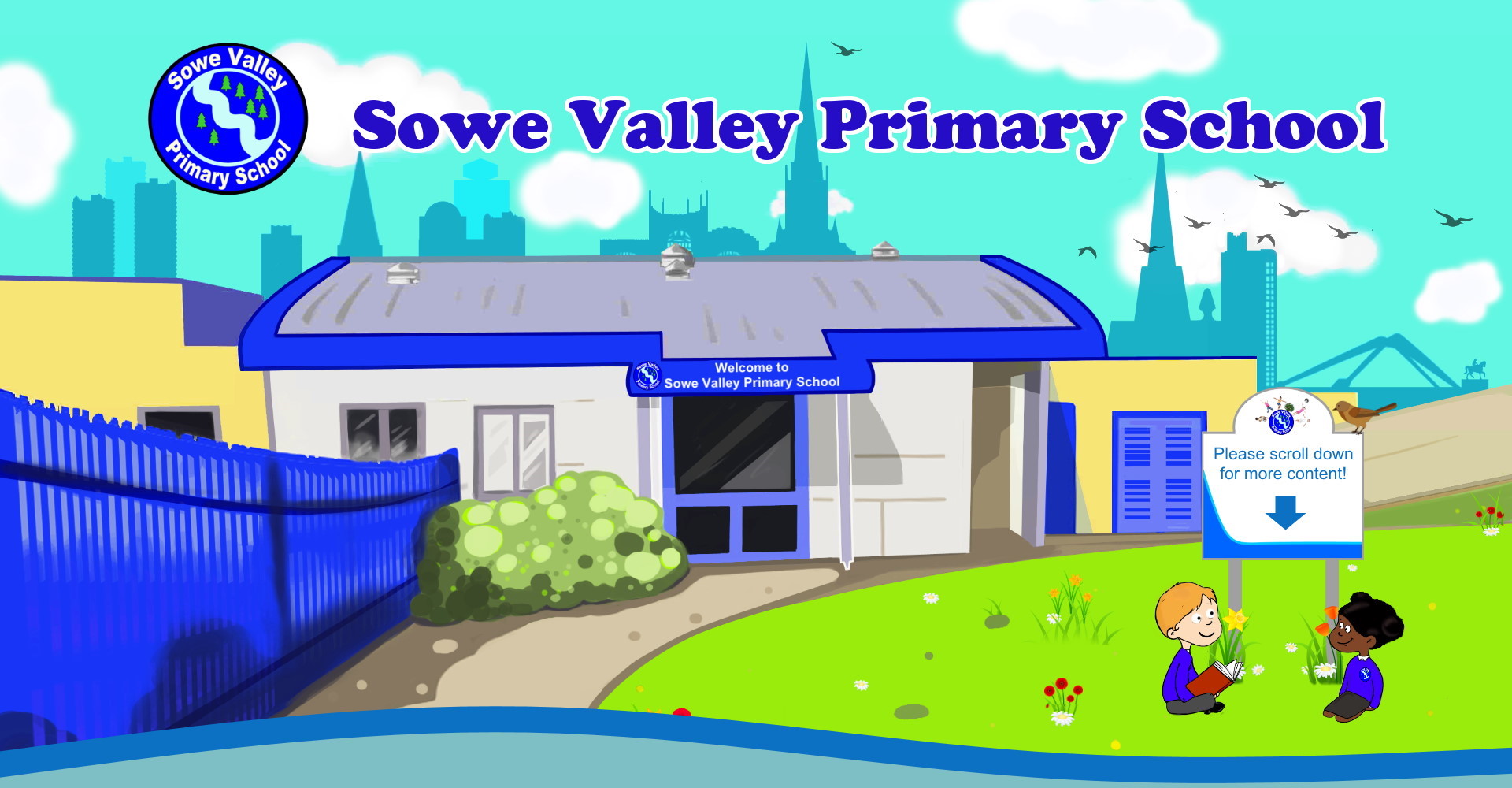 At Sowe Valley Primary School we believe that reading is an essential life skill and we are committed to enabling our children to become lifelong readers.
At the heart of our strategy is our drive to foster a love of reading, enriching children's learning through carefully designed teaching activities that utilise imaginative stories and thought provoking texts. Reading is a skill that enables children to develop their learning across the wider curriculum and lays the foundations for success in their future.
We have high expectations of all children and encourage parents to support our vision by reading at home daily with their children.
Teaching reading in Years 1 to 6
Our reading skills lessons take place every day in every year group across the school for 30 minutes. Within these sessions our teachers model reading strategies during shared whole class reading sessions. These involve high quality, age-appropriate texts which are carefully selected by our staff. These are read to or with the children and provide an opportunity to teach children specific reading skills to widen their vocabulary and develop their levels of comprehension, as outlined in the National Curriculum. Questions are planned by teachers in advance to help children access a range of skills to help them to develop a greater understanding of a range of reading materials including fiction, non-fiction and poetry materials.
In our reading lessons, we use reading VIPERS (based on materials from 'The Literacy Shed') to help support our pupils to understand what a good reader looks like and how to approach answering reading questions. VIPERS is an acronym used by teachers at Sowe Valley to aid the recall of the 6 reading domains as part of the UK's reading curriculum.  They are the key areas which we feel children need to know and understand in order to improve their comprehension of texts.
Vocabulary     Inference     Prediction     Explanation     Retrieval      Sequence or Summarise
All children work on VIPERS during class reading whether this is reading as a class, in a small group or one to one with an adult. We encourage children to orally talk through their answers before formally recording their answers. Children do this in a variety of ways such as discussing the answer first with their peers and/or an adult and then writing their best answer.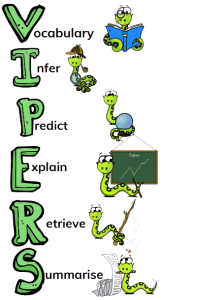 It would be excellent if, as parents, you could also refer to these VIPERS regularly when you are listening to your child read at home. VIPERS questions can be applied to any text that a child is reading as well as with pictures, picture books and films! When any adult is listening to a child read, all they have to do is think of questions about the book, picture or film that cover some of the VIPERS and there are some great examples below of how you can create your own questions using the following question openers. If you have any questions or are struggling with this, please contact your child's class teacher and they will provide some additional support materials to use at home.
At Sowe Valley Primary School, we encourage a reading for pleasure ethos through daily reading sessions, class story time, outdoor reading, reading challenges, author visits and reading events, such as World Book Day. Children also have independent access to a wide variety of high-quality texts in their classroom reading areas and school reading hubs which can be accessed on weekly 'zone day'. It is these tools and opportunities that we believe give our children the necessary skills to become thoughtful and confident readers for life.
Our staff nurture a love of books by introducing books with enthusiasm and enjoyment, promoting a sense of wonder and expectation as the book is explored. Our staff use high quality texts in all aspects of their teaching across the curriculum and provide opportunities that extend and enrich the children's learning in their class. When we read for pleasure, our children can choose the books they wish to read and enjoy.
Children's love of reading is a high priority at Sowe Valley. We aspire for our pupils to read and enjoy a wide range of texts. Therefore, each year group is provided with a 'top 50 challenge' where they are encouraged to read as many books from the recommended list during their time in that year group. Pupils will bring a Top 50 book home alongside their reading book to enjoy at home – these are changed at pupils request and may take longer to read than their reading book. Please feel free to enjoy the book for aslong as you require before returning it to change. The top 50 books are selected and pitched at the reading age typically expected of pupils within that year group and, on some occassions, these may challenge your child beyond their reading ability. Our provision of books aim to promote a love of books so it may be that you choose to read to, read with or listen to your child reading the story.